Recipes
Peanut Butter & Pumpkin Soup - Nutrient Rich !
by Karthik Bhaskara on May 08, 2022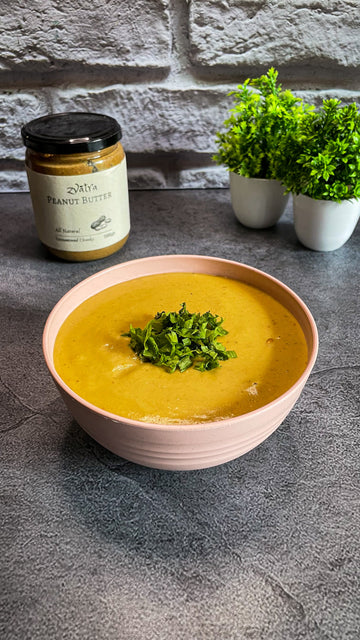 Ingredients:
Onions - 1/2 cup roughly chopped
Pumpkins - 2 cups chopped
Garlic - 7-8 cloves
Sweet potato - 1 cup boiled and chopped
Cold pressed Oil - 2 & 1/2 tbsps 
Milk of your choice - 800ml 
Zvatra Unsweetened Chunky Peanut Butter - 1/3rd cup, whisked into water till flowing consistency
Chilli flakes - 1 tbsp 
Black Pepper - 2 tsps 
Salt, to taste
Method:
Preheat your oven to 200 degrees Celsius.
Add all the veggies and garlic to a large bowl and toss in the salt and oil. Mix well till all pieces are coated well.
Place in a baking tray and spread the pieces out. Bake at 200 degrees for 25-30 minutes.
Take a blender, add in 600ml of coconut milk and add these roasted veggies.
Blend and add into a pan, add in 200ml more of milk and mix.
Take 1/3rd cup of peanut butter and whisk it in some water, till it's pourable consistency (else the peanut butter will clump).
Mix and simmer for 5-6 mins on medium heat.
Add in chilli flakes, salt & pepper and stir. Simmer for another 4-5 minutes.
Garnish with greens and serve!
Find the video on Instagram - Here
If you try out this recipe, upload and tag us on Instagram with the #beyondtheslice ! Every month, we will give out a free jar of Peanut Butter to one lucky winner.